Guia de Soldadura - Spanish language translation of Welding Essentials, Q&A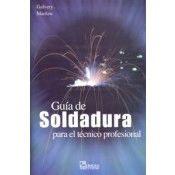 Welding Essentials, Second Edition
Spanish language translation,
para el tecnico profesional


Features
This is the Spanish language translation of our Welding Essentials: Questions and Answers, 1st Expanded Edition (ISBN: 978-0-8311-3151-7) published by Limusa - Noriega Editores of Mexico City, Mexico. This Spanish language edition is now available directly from Industrial Press, Inc. Note that the English language version is only available in a second edition (ISBN:978-0-8311-3301-6).
480 Pages, Hardcover
Published: August, 2005
ISBN: 9789681863876